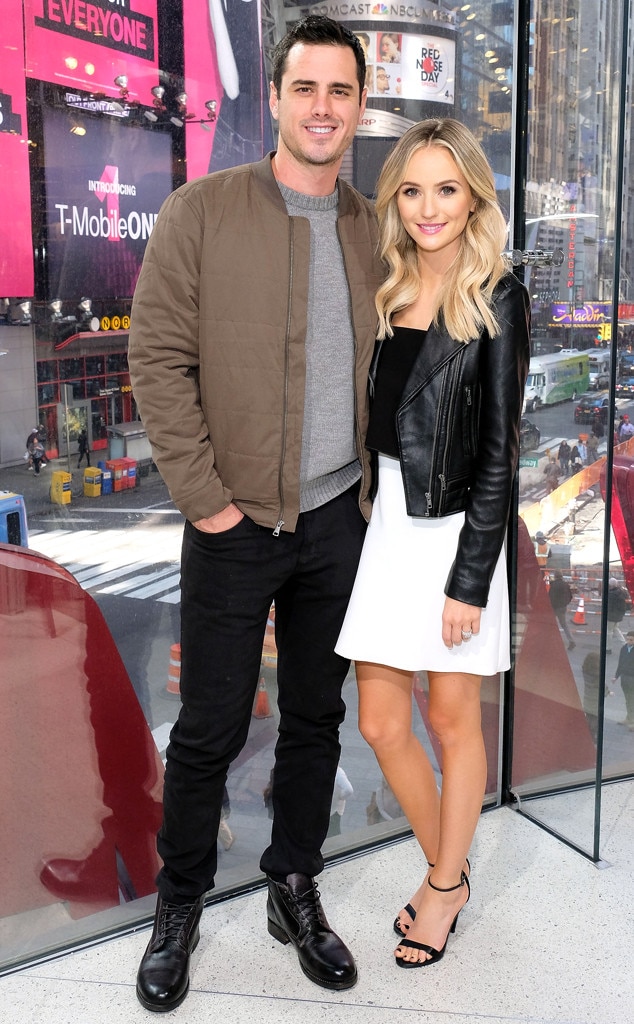 D Dipasupil/Getty Images for Extra
No, Ben Higgins and Lauren Bushnell are not calling it quits.
The status of the engaged Bachelor season 20 couple's relationship appeared uncertain after Tuesday's episode of their Freeform reality show Ben & Lauren: Happily Ever After?, which showed Higgins telling Bushell their wedding was off. He added, "I'm not leaving you."
Higgins reiterated on Twitter and Instagram Friday that he and Bushell were still together—and signaled they were still engaged, posting photos of the two, with her wearing the $95,000 4.25-carat Art Deco-style Neil Lane ring he gave her during his proposal on The Bachelor season 20 finale, which aired in March. 
"One year ago today I started my life with @LaurenBushnell3 and we are better today than ever before," Higgins wrote alongside his Twitter photo, a screenshot of a FaceTime session.
He also wrote on Instagram, "One year ago today I proposed to @laurenbushnell and even with the normal relational speed bumps our relationship has continued to mold us both into better partners and better people. I am lucky to have her, we are doing very well!"
Higgins also used the platform to promote a charitable cause.
"If you want to get us a 1 year anniversary gift purchase this shirt that @theyearofelan (pictured below) partnered with @humanityandhope on," he wrote, referring to The Bachelor producer Elan Gale.