More women have come forward with sexual assault allegations against . Summer Zervos, a contestant in season 5 of "", detailed the alleged sexual misconduct done by the real-estate mogul in a press conference with lawyer Gloria Allred in Los Angeles on Friday, October 14.
Zervos revealed Trump kissed her twice, touched her breast and thrust his genitals against her on separate occasions. Zervos said she met Trump in 2007 following her appearance on the show in 2006, to discuss a position at his company. During the business meeting at the Trump Tower, he kissed her twice "on the lips," and over lunch, complimented her on having "a large set of balls" during her run on the show. He also allegedly told Zervos he would "love to have [her] work for him."
"As I was about to leave, he again kissed me on the lips," Zervos recounted. "This made me feel nervous and embarrassed, as this is not what I wanted or expected." She called her parents and a friend, admitting that she felt upset about the inappropriate interaction, but she agreed to meet with Trump a few days later in Los Angeles at the Beverly Hills Hotel.
During the second meeting, Trump allegedly "grabbed my shoulder and began kissing me again very aggressively and placed his hand on my breast" while at a bungalow at the hotel. She went on recalling, "I pulled back and walked to another part of the room. He then walked up, he grabbed my hand and walked me into the bedroom." She said he asked her to lay down and watch television, and when she tried to push him away, "he began thrusting his genitals."
After Zervos repeatedly told him, "Come on man, get real," the Republican nominee finally backed off and treated the remainder of the meeting "like a job interview," leaving her confused as to whether it was "some kind of test." The discussion didn't lead nowhere, though, and Zervos thought that she was denied career opportunities because she refused to sleep with Trump.
When asked why she decided to come forward now, Zervos said, "I want to be able to sleep when I'm 70 at night."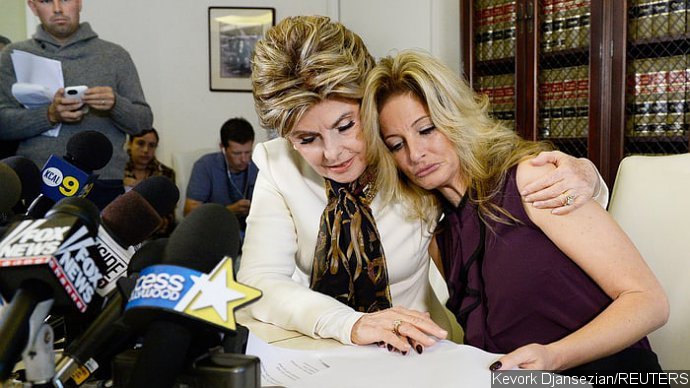 Allred said in a statement, "You think that this is all one large conspiracy. I have news for you, Donald. There is no conspiracy. It is you and you alone who have brought you to this precipice. It is you and you alone who is responsible. It is my understanding that your campaign may try to discredit the accusers and in essence are declaring war on women, but women will not be silenced by this tactic. Women are now empowered, and they will not be bullied into silence anymore."
Responding to Zervos' accusation, Trump said in a statement, "To be clear, I never met her at a hotel or greeted her inappropriately a decade ago. That is not who I am as a person, and it is not how I've conducted my life. In fact, Ms. Zervos continued to contact me for help, emailing my office on April 14th of this year asking that I visit her restaurant in California."
"Beyond that, the media is now creating a theater of absurdity that threatens to tear our democratic process apart and poison the minds of the American public," he added. "Hillary Clinton can spend all of her time and money pushing complete lies against our campaign, but I refuse to fall victim to this vicious cycle of personal attacks."
Another woman who opened up on Friday about alleged sexual assault on her by Trump was Kristin Anderson. The 46-year-old photographer who lives in California said Trump touched her vagina when she was with friends at a Manhattan nightclub in the early 1990s.
"I'm talking to my friend who [was sitting] on my left side. I'm very clear on this," she told The Washington Post. "This is the vivid part for me. So the person on my right, who unbeknownst to me at that time, was Donald Trump, put their hand up my skirt… He did touch my vagina through my underwear. Absolutely."
"We just went off the rest of our night," Anderson additionally said in an interview with CNN's . "I pushed him off and I moved away and I sort of didn't ponder it for that long … He's (denying it) and there are a ton of women saying yes, and more will come out."
Trump's spokeswoman has denied the allegation made by Anderson, while Trump himself said in his speech that such incident was implausible because he rarely sits alone at nightclubs.
© AceShowbiz.com