Oy with the complaints about spoilers! Consider this an official warning that MAJOR Gilmore Girls: A Year in the Life spoilers follow, so if you choose to continue reading and then complain about being spoiled, you control the weather and wrote the screenplay to Glitter. 
And the father is…
After a 10-year wait, Gilmore Girls: A Year in the Life finally premiered on Friday, Nov. 25, and the four-episode revival ended with a bombshell reveal: Rory Gilmore (Alexis Bledel) is pregnant. And we don't know who the father is. Gah!
While we impatiently wait for Netflix to order another season of Gilmore Girls, let's pass the time by speculating who could be the father of Rory's baby.
Without further ado, here are the potential baby daddies…
Logan (Matt Czuchry): In the very first episode, we learn Rory stays with Logan every time she's in London, and the two have an arrangement, despite their respective significant others. Still, the intensity of Rory's feelings for Logan, who proposed in the series finale, are truly revealed when she finds out his fiancée has moved in with him.
The couple calls off their arrangement in "Winter," but have one last adventure together in "Fall," when Logan, along with the Life and Death Brigade, visit Rory in Stars Hollow.
Odds He's the Father: 2 to 1. Come on, the revival was all about things coming full circle for all three Gilmore women, and wouldn't Logan, a wealthy former trust fund kid, perfectly represent Christopher (David Sutcliffe), Rory's father?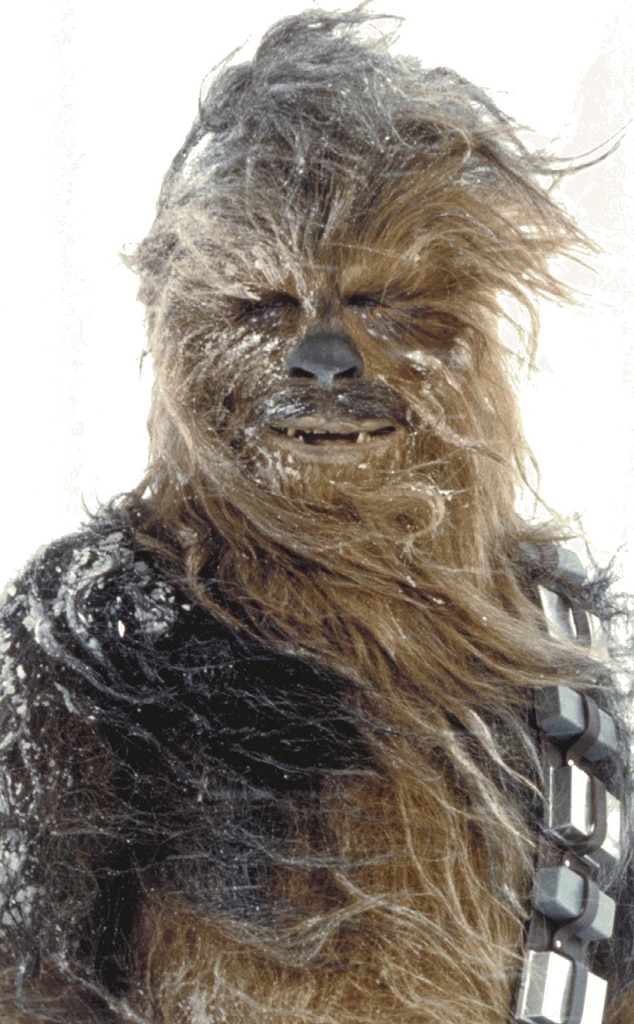 Lucasfilms
The Wookie (???): At the end of "Spring," a wayward Rory returns from a toy collectible line to her NYC hotel room to reveal to Lorelai that she slept with a Wookie. Yes, a Wookie. Well, a "nice" guy dressed as a Wookie. And it was Rory's first one night stand. 
Odds He's the Father: 100 to 1. While it would be fun to hear Lorelai's endless Star Wars puns, we don't see the cosplay fan as the man, especially considering the timeline, though we don't know exact dates. (Please note this photo of Star Wars' Chewbacca is a photo-filler as we do not have any photos or video of the Wookie Rory bedded.) 
Jess (Milo Ventimiglia): OK, let's be honest, there's no way Jess is the father, as the two haven't had a physically intimate relationship in quite some time, but it's clear from Jess' last scene in "Fall" that he's still in love with Rory…and their story might not be over just yet.
Odds He's the Father: Zero. But we can dream…and speaking of full-circle, he could be Rory's Luke (and the Luke to her unborn child)…and he's Luke's nephew. We have chills. It's all happening! Again, like Lorelai so eloquently aid, "Full-freakin'-circle."
Paul (Jack Carpenter): Who? Just kidding. But not really. Just like Lorelai, Luke and even Rory herself, we keep forgetting about Paul, Rory's longtime boyfriend who she keeps forgetting to break up with. Technically, they were still dating until the very last scene of the revival, during which he broke up with Rory over text message, so he's not out of the running…even if everyone keeps forgetting he exists.
Odds He's the Father: 10 to 1
Who do you think is the father of Rory's baby? Sound off in the comments or tweet me your theories at @tbrick2!
Gilmore Girls: A Year in the Life is now available to stream on Netflix