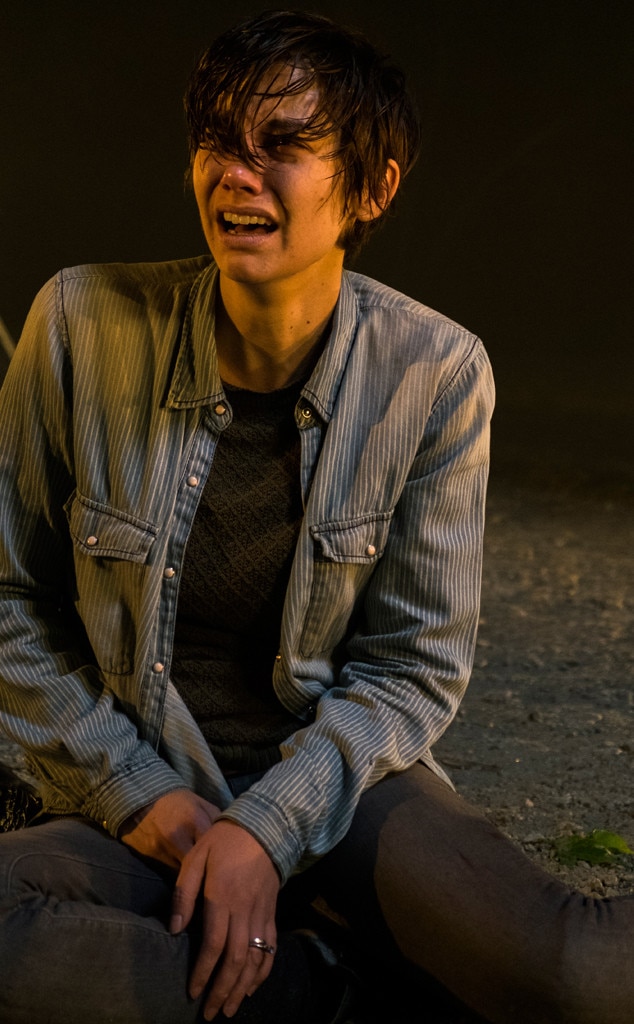 AMC
After breaking our hearts and turning our stomachs with the epic deaths in the season seven premiere, The Walking Dead has spent each subsequent episode checking in on a different corner of its ever-expanding world. After a full hour with Carol and Morgan at the Kingdom, an episode-long look at Darryl's torture at the hand of Dwight over at Negan's Sanctuary, and an extended look at life under Negan's rule for Rick and the gang at Alexandria, there was only one place left to go: The Hilltop.
Of course, that meant it was time to learn Maggie's (Lauren Cohan) fate, as well as the fate of her unborn baby. You'll recall, when we last saw her, she was seemingly on the verge of a miscarriage. And that was before she watched her husband get his head smashed in.
The episode wasted no time revealing that both Maggie and her baby made it out of that horrific night alive. (Negan's going to be none too happy when he learns that Rick and Father Gabriel lied to him with that empty grave!) The Hilltop's doctor informed a just-awake Maggie that she suffered a separation of placenta from uterus, but it was small enough that it could be repaired. After letting her listen to the baby's strong heartbeat, he made it clear that she needed to stay at the Hilltop for the remainder of her pregnancy.
The only problem with that? The icky coward Gregory (Xander Berkelely) wants her and Sasha (Sonequa Martin-Green) gone after their incredible failure in living up to their promise to wipe Negan (Jeffrey Dean Morgan) and his Saviors off the map. That said, it's Maggie's quick thinking—and not that weasel's—during the Savior-incited walker attack on the compound that keeps everyone alive. (Was there anything more badass this season than Maggie getting her demolition derby on with that tractor? We don't think so.)
It's this quick thinking, a sign of Maggie's natural leadership, that's got Jesus (Tom Payne) clearly thinking it's time for a transition of power at the Hilltop. He may not be ready to admit it to a still-healing Maggie, but he's obviously thinking Mrs. Rhee is the right person to assume Gregory's position as leader. We've got a feeling the rest of the Hilltop might be inclined to support Jesus' coup.
Of course, he'll have to get back to the Hilltop alive if he ever hopes to put his plan into motion. At episode's end, he was sent on a secret espionage mission by Sasha, who wants him to track down Negan's lair by way of one of the Saviors' trucks full of Hilltop loot.
And for this week's "Carl is the worst" reminder, the out-of-depth teen snuck out of Alexandria to follow Enid (Katelyn Nacon) to the Hilltop, but rather than follow her in for a grilled cheese with Maggie and Sasha, he hopped on the back of the same truck as Jesus, throwing his plan off course because now he's going to have to make sure this stupid kid doesn't get dead when they make it to the Sanctuary. Like we said, Carl (Chandler Riggs) is the worst.
Are you expecting Maggie to take charge of the Hilltop? It's time to see a woman run the show around these parts, right? Share your thoughts in the comments below.
The Walking Dead airs Sundays at 9 p.m. on AMC.